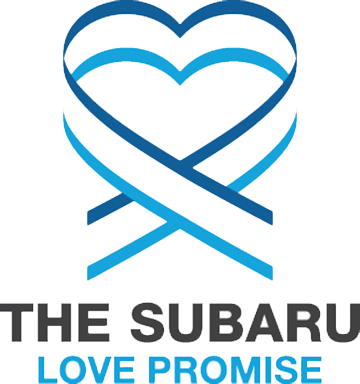 What is the Subaru Love Promise?
Subaru and our retailers believe in making the world a better place and the Subaru Love Promise is our vision of respecting all people. This is our commitment to show love and respect to our customers and to work to make a positive impact in the world.
How is Ciocca Subaru of Philadelphia dedicated locally to the Love Promise?
We are committed as a team to help and support the community that welcomes us into their heart and soul.
Universal Audenried Charter School
Love Promise Stories from Ciocca Subaru of Philadelphia
Subaru and Ciocca Subaru of Philadelphia believe in making a positive impact on the communities in which we live and work. We uphold that belief through our Love Promise Community Commitment. Every month, we select inspiring stories from customers and partners from around our area who strive to support our collective commitment and feature them here
Nasty Pot Hole - Alexa S
On May 4th on the way to work Alexa Soares got a flat tire when someone cut her off on the way to work before 10 am. Two techs from Ciocca Subaru of Philadelphia went out to change a tire and put a spare on. The dealership offered to replace the tire for almost no cost and when it turned out it needed a wheel as well they didn't charge anything for that. (she was already having a bad day) Instead got her in a complimentary loaner order a new tire and wheel and she was on her way in a couple of days.
---
Sandy Sprint Philly - Sarah R
Thank you to Ciocca Dealership for your sponsorship of the Sandy Sprint Philly this past Saturday! We had a beautiful morning with aprox. 800 participants. We have received many positive comments about how special the event was, with all of the entertainment, upbeat energy and sense of community. Ciocca Dealerships helped us execute that event and raise money to fund research - we are nearing the $275K mark of funds raised! Ethan delivered the car that morning to the Art Museum and I texted him probably around 11am on Saturday that the event was complete and to please get the vehicle at his convenience.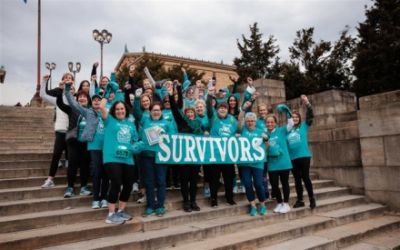 ---
Earth Day - David S
On Earth day Ciocca Subaru of Philadelphia partnered with David Sczcepanik and the Greys Ferry Tree Tenders to plant 6 trees in Stinger Park and a total of 32 in the city of Philadelphia. Not only did 95% of the Ciocca Subaru of Philadelphia associates participate but they also committed to plant water those trees at Stinger park 20 gallons per week. This was all on the same day that the employees did a community cleanup picking up litter and trash off the streets and parks.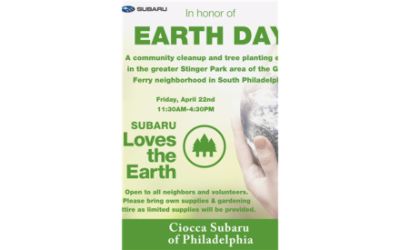 ---
Purchase Experience - TONIA W
Can't say enough about the sales experience at your dealership!! Wyatt our salesperson was wonderful and Frank your finance person was very kind as well. Luke showed me all the features on my new outback and I felt confident in all the information he provided on the vehicle. I recommended you guys to our friends and neighbor and they bought an outback last Monday and they had an equally wonderful experience. Thank you from the bottom of my heart. I just lost my husband and I had to trade in his car because I could not bear to drive it. This outback is a new chapter for me. Tonia Williams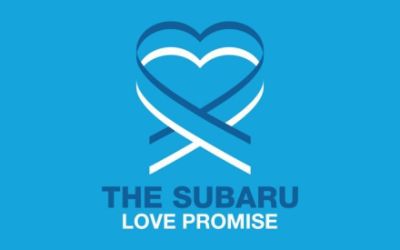 ---
Ciocca Subaru Pet of the Week - Lauren H
Dear Eric, James and the Ciocca Subaru team: When Whole Grain's owners found their lives in upheaval, they made the heartbreaking decision to surrender him to the city shelter (ACCT). More and more, PAWS is working to keep families together, but when that is not possible, the challenge shifts toward finding foster homes quickly so that pups like Whole Grain spend as little time as possible in a shelter. Protecting these dogs' emotional health and social skills — which can quickly decline in unfamiliar and stressful surroundings — is so important to the rest of their journey.With that in mind, PAWS quickly stepped in to rescue this sweet and silly guy, and placed him with a welcoming foster parent. Within a matter of days, the foster let us know that he had fallen in love and decided to make Whole Grain a permanent member of his family! To express his thanks, Whole Grain wanted me to share the attached photo with you! Like Whole Grain, we are profoundly grateful to you for enabling PAWS to provide him with the safety and love he deserves. Together, we will continue meeting new milestones and working tirelessly to make our city a place where every single saveable pet has a chance, just like Whole Grain! With unending gratitude, Lauren Lauren Hanak | Major Gifts Officer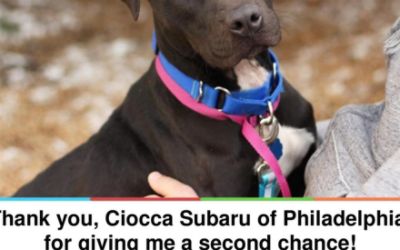 ---
Recent Subaru Experience - Sean M
We met briefly when my wife and I came in to look at a certified 2019 Impreza. First, I wanted to thank you for making our acquaintance early in the process. I wanted to specifically email you about the Ciocca employees who helped my wife and I during our purchase. Re: Ethan As we all know, car sales are as stressful for a purchaser as it is for a seller, especially with stigmas being what they are. When we met and as we interacted with Ethan, Mandy and I quickly realized that this interaction would be nothing like that. He was courteous, kind, and addressed us both in equal fashion. After laying out the mission of Ciocca dealerships, It became abundantly clear that his intention was to maximize our experience, and not on "making a sale". Throughout the introductory phases of our communication, he had answers for every question we asked, no matter how obscure they might have been. He was forthcoming, transparent, and upfront about the car, and if there was some detail he was unsure of, he took time to find and verify the information for us. When it came to talking about price points, there was no awkwardness or malice in the negotiation. There was no coerciveness, or manipulation. He was realistic, and truthful. On top of being all of this, Ethan personally detailed the car before we left with it. AND he contacted me the day following the sale to ensure that no questions or concerns had come up. Overall a 5 star experience in the sale. Re: Guido After 2.5 hrs of sales conversations, my wife and I were fading. We were anxiously waiting on loan interest rates, and finance information, which is of course THE most stressful part about the sale (at least for us). Enter Guido, who came out of his office raring to go and help us out. From the moment we met him he was happy, all smiles, and appeared genuinely excited for us to get this car. Even at the very end of his day. His reiteration of what Ethan had explained to us about care warranties/protections was a perfect information overlap, but from a different perspective. He was clear, concise, and perfectly paced in his explanation. When I explained that I would have to call my wife (who had left earlier) and go over the extra protection options/ payment choices he exhibited patience and understanding, empathizing with my anxiety to make the decision on my own. And above all, just as Ethan had, he did not push anything on me that I did not want, but effectively offered me alternatives that could afford me more options at a cheaper rate. His tactics were professional, personal, and sympathetic to my needs. Finally, In my humble opinion, at least speaking from my own professional life dealing directly with consumers (patients), the easy road is to learn the technique for the procedure, or the testing/treatment algorithm and simply regurgitate these things. The hardest skill to master is tailoring the things you've learned to the specific patient and understanding their perspective in a very short timeframe. Ethan and Guido are exemplary members of your staff, who through communicating the mission of "Mr. C" are able to take what they have learned, and customize it to each client interaction while adding a personal warmth creating an extremely positive experience. I will certainly recommend this dealership to anyone in the market for a car.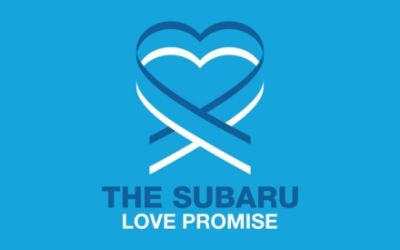 ---
Made my day, - Felecia M
Ciocca Dealership and Staff, I wanted to say thank you once again for showing your kindness at the Fresh Grocer. I suffered a stroke in August 2021 and since then money has been tight. But with your kindness, it shows that there are good people in the world and we thank you. God Bless,Felecia, Irene, Dorothy and Gabrielle Myers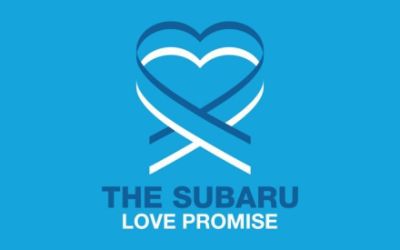 ---
Random Act of Kindness - Eric N
This week was Random Acts of Kindness Week. In honor of this week we went to our local store and purchased the groceries for several families. We are so thankful to be able to give back to our community in so many different ways. Let's all remember that one act of kindness can change someone's day. Let's make kindness the norm. #SubaruRAK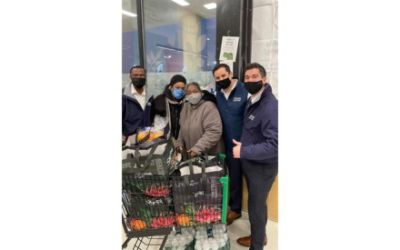 ---