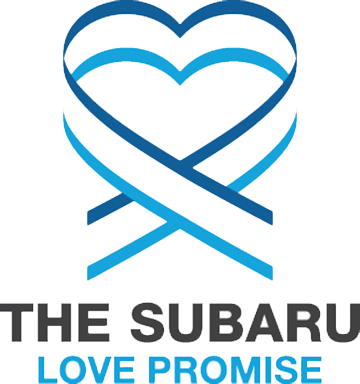 What is the Subaru Love Promise?
Subaru and our retailers believe in making the world a better place and the Subaru Love Promise is our vision of respecting all people. This is our commitment to show love and respect to our customers and to work to make a positive impact in the world.
How is Ciocca Subaru of Philadelphia dedicated locally to the Love Promise?
We are committed as a team to help and support the community that welcomes us into their heart and soul.
Multi-Cultural Academy Charter School
Philadelphia VA Medical Center
Love Promise Stories from Ciocca Subaru of Philadelphia
Subaru and Ciocca Subaru of Philadelphia believe in making a positive impact on the communities in which we live and work. We uphold that belief through our Love Promise Community Commitment. Every month, we select inspiring stories from customers and partners from around our area who strive to support our collective commitment and feature them here
"Fill the Ascent" Food Drive - Stephanie N
Throughout the month of July, customers and employees of Ciocca Subaru of Philadelphia participated in the "Fill the Ascent" event. The goal was to collect non-perishable food items for Face to Face, a Germantown human services organization dedicated to the health, well-being and stability of the community. Over 150 pounds of food was collected and donated, we cannot say thank you enough to all those who Love to Help!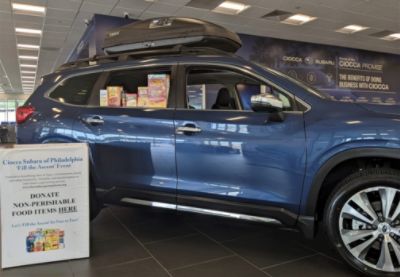 ---
Ciocca Subaru of Philadelphia and LLS delivery warmth and comfort to cancer patients. - Monique R
Thank you to the team from Ciocca Subaru of Philadelphia for joining the Leukemia & Lymphoma Society (LLS) at the Hospital of the University of Pennsylvania – Penn Medicine on June 21st to provide much need support and "warmth" to patients fighting cancer and their families. Ciocca Subaru of Philadelphia and LLS provided blankets, arts & craft kits, and messages of hope to patients undergoing cancer treatment at the hospital. These message cards from the dealership shared personalized messages for hope to patients in their local community, which were delivered alongside the blankets to provide comfort and warmth as they continued their fight against cancer. Together we are reaching and supporting even more patients, families, and caregivers in their time of need. Present during the delivery were General Manager Eric Narodovich and several Ciocca Team Members, Regina Cunningham, CEO at Penn, Dr. Sunita Nasta, Kristen Maloney, Clinical Director Oncology Nursing, several Penn Medicine Nurses, a 10-year Multiple Myeloma Patient, Michael and 5-year Hodgkins Survivor, Brianna both who are treated at Penn Medicine along with LLS Staff Members.

---
Subaru Destroyed by Falling Tree - James J
Yesterday, a story on 6ABC news stuck out to our team at Ciocca Subaru of Philadelphia. Franklin Onwubuariri, from Upper Merion, was on the way to pick up his child from football practice in his Subaru when a tree fell onto his car. Firefighters had to use a chainsaw to break up the tree to rescue him, thankfully with no major injuries. Our team reached out to 6ABC to try and help, where we learned that incident left the family without their only vehicle. This afternoon, Ciocca Subaru of Philadelphia was able to provide the Onwubuariri family with a loaner vehicle, so they are not left without a car during this time. Our GM visited them personally and made sure that the process will be smooth and easy for them whenever they are ready to replace their Subaru! In addition, the family will receive VIP pricing from the store to help soften the impact on the family's finances from the unfortunate incident. Franklin Onwubuariri said after the incident "Thank goodness for Subaru, I was able to walk away with no scratches or major injury. Only shoulder soreness."
---
Stinger Park meets Subaru Park - Derek H
Good Afternoon, I wanted to express my appreciation to Eric Narodovich and say thanks for reaching out to Stinger Square Park and the Greys Ferry Community and creating a wonderful partnership with a very bright Future . My Name is Derek "Chill" Hixon I am the Director of Stinger Square Park and Community Youth Organizer for the Greys Ferry Neighborhood in South Philadelphia. On Earth Day this year Subaru and Stinger Square Park partnered up and held a tree planting event. The Children learned about Teamwork and Tree Tending and loved meeting and having fun with the Crew from Subaru. In addition to the Earth Day event we were invited to the Philadelphia Union Soccer match on Saturday. It was the first time my fellow community leaders and I ever went to see a soccer match, the hospitality shown was excellent and not something my community usually experiences. I am looking forward to a long and productive Partnership/Friendship and another Soccer match lol (if possible!)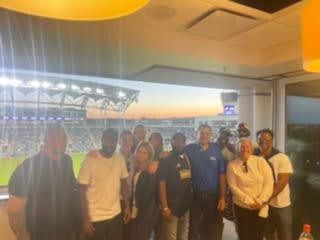 ---
Subaru Loves to Care - Hospital of the University of Pennsylvania - Kristen M
Hi Eric and Stephanie, I wanted to pass along our sincere thank you for choosing HUP for your delivery of blankets today as part of Subaru Loves to Care in partnership with LLS! Our patients (and staff) were delighted by the surprise today, and they welcomed the donation. They were most grateful for the thoughtful, hand-written messages that accompanied the delivery. A message of hope, strength and kindness goes a long way for those experiencing a cancer diagnosis. We have even already been able to share an art kit with a family – they are fabulous! Thank you so very much for bringing the team today, we are so appreciative! Please pass along our thanks to all of your team members. Kristen Maloney PhD, RN, AOCNS Clinical Director, Oncology Nursing Hospital of the University of Pennsylvania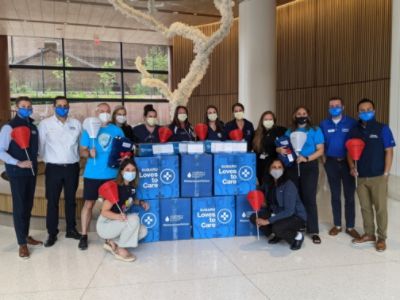 ---
Ciocca Subaru of Philadelphia Grand Opening - Aria A
On June 9, 2022, Ciocca Subaru of Philadelphia partnered with Children's Hospital of Philadelphia (CHOP) to celebrate its Grand Opening! Through a silent auction on-site and a $250 donation from every new car sold over the weekend, Ciocca Subaru of Philadelphia raised $15,590 for CHOP's Reach Out and Read Program. Launched in 1996 and currently operating in more than 20 primary care sites in Philadelphia and New Jersey, Reach Out and Read is a critical program that empowers physicians to integrate early literacy into well visits. In exam rooms, pediatricians and nurse practitioners encourage parents to read aloud and offer age-appropriate tips, while giving young children brand-new, developmentally, culturally and linguistically appropriate books, serving as a catalyst for healthy childhood development. Reach Out and Read begins at the child's 6-month checkup, and continues through age 5, with special emphasis on children growing up in low-income communities. Families served by the program read together more often, and their children enter kindergarten with larger vocabularies and stronger language skills, better prepared to achieve to their full potential. CHOP is grateful to Ciocca Subaru of Philadelphia for supporting this important work and program within the communities who need it most!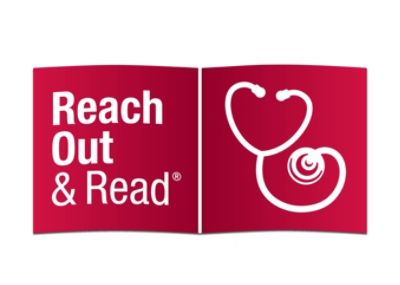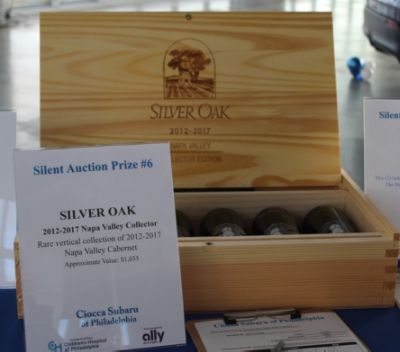 ---
Nasty Pot Hole - Alexa S
On May 4th on the way to work Alexa Soares got a flat tire when someone cut her off on the way to work before 10 am. Two techs from Ciocca Subaru of Philadelphia went out to change a tire and put a spare on. The dealership offered to replace the tire for almost no cost and when it turned out it needed a wheel as well they didn't charge anything for that. (she was already having a bad day) Instead got her in a complimentary loaner order a new tire and wheel and she was on her way in a couple of days.
---
Sandy Sprint Philly - Sarah R
Thank you to Ciocca Dealership for your sponsorship of the Sandy Sprint Philly this past Saturday! We had a beautiful morning with aprox. 800 participants. We have received many positive comments about how special the event was, with all of the entertainment, upbeat energy and sense of community. Ciocca Dealerships helped us execute that event and raise money to fund research - we are nearing the $275K mark of funds raised! Ethan delivered the car that morning to the Art Museum and I texted him probably around 11am on Saturday that the event was complete and to please get the vehicle at his convenience.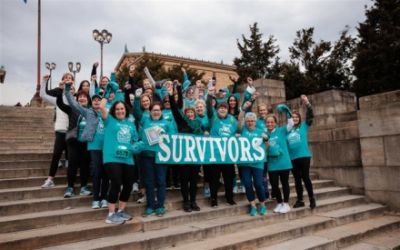 ---
Earth Day - David S
On Earth day Ciocca Subaru of Philadelphia partnered with David Sczcepanik and the Greys Ferry Tree Tenders to plant 6 trees in Stinger Park and a total of 32 in the city of Philadelphia. Not only did 95% of the Ciocca Subaru of Philadelphia associates participate but they also committed to plant water those trees at Stinger park 20 gallons per week. This was all on the same day that the employees did a community cleanup picking up litter and trash off the streets and parks.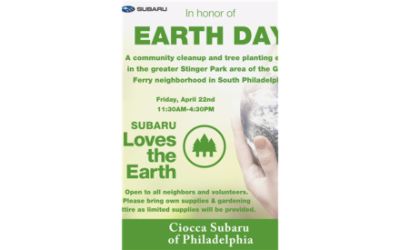 ---
Purchase Experience - TONIA W
Can't say enough about the sales experience at your dealership!! Wyatt our salesperson was wonderful and Frank your finance person was very kind as well. Luke showed me all the features on my new outback and I felt confident in all the information he provided on the vehicle. I recommended you guys to our friends and neighbor and they bought an outback last Monday and they had an equally wonderful experience. Thank you from the bottom of my heart. I just lost my husband and I had to trade in his car because I could not bear to drive it. This outback is a new chapter for me. Tonia Williams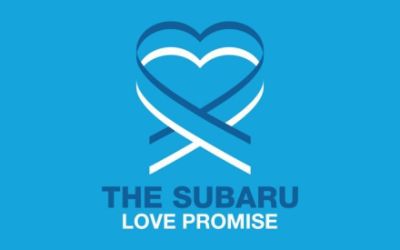 ---